I've had some time now to digest all of the great ideas presented to me by the TEDx speakers on Saturday. While some really jumped out at me immediately (some might say they "spoke to me"), others have taken far more reflection and conversation with others who had a more immediate reaction to the speakers. I would say as a whole the entire day-long program of speakers was fantastic. The thought of 8-hours worth of sitting and listening to strangers talk was a little ominous. When 6pm arrived though, I felt like the past 8 hours flew by faster than I wanted them to. I wanted to stay to talk to everyone (the speakers, the guests, the organizers) a little longer. Even though some of my compadres were mentally exhausted after the event, I was actually energized. Really great ideas energize me, so I thought I would share a few of my favorites.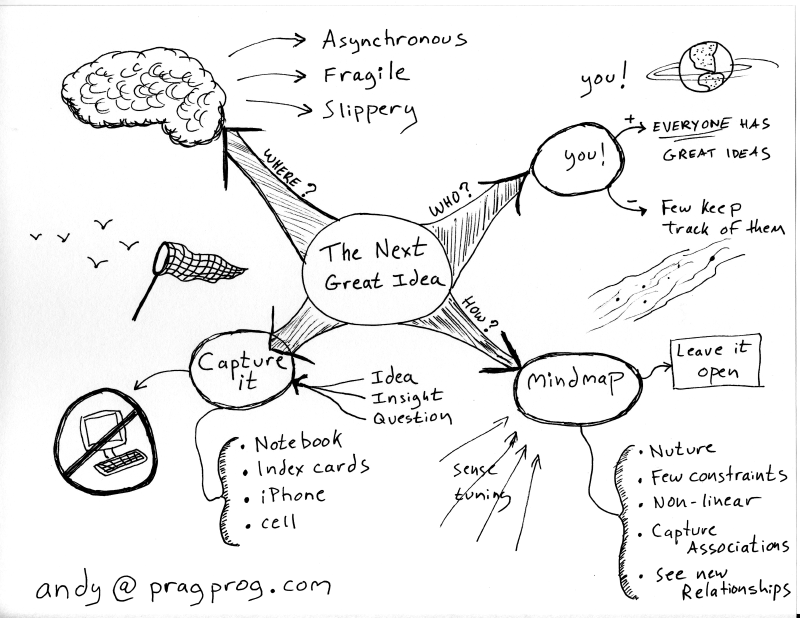 Andy Hunt. Mindmapping The Next Great Idea. The big kicker here is to realize that unless you capture your ideas, questions, and insights, they're going to be lost forever, and if you think you can capture them all on your laptop or desktop you're crazy. What about when you're at a conference, in the grocery store, in the shower, in the car, on the bus, etc.? Take notes on your cell phone or in a notebook or whatever else you keep on your body at all times. I have a newfound love for small notebooks and sweet pens.
Phaedra Boinodiris. INNOV8 Game. Could this software solve some of the training problems I've seen in my own office? Could we train our call center staff more quickly and accurately by incorporating some "play time" into our training schedule? Could the game also be used as an internal communication training tool? I'm not a fan of taking web-based courses such as "Communicating and Listening", "Interaction Skills for Success" or "Working Through Conflict" that consist of reading a few modules and then taking multiple-choice quizzes to test your knowledge. We can do better than that. Never thought I would say this, but GO IBM!
Hugh Hollowell. Eliminating Homelessness. People are only hungry or homeless because they lack stable relationships. All problems are actually just relationship problems. I should be thankful because I will never be homeless. And how do I know that? Because I have my family and a large support network. This really struck a chord with me because I've never been a large supporter of donating money to the homeless or to various causes, but instead have tried to make meaningful connections with those who need help. So make a friend today with someone who needs help. Just being their friend will help.
Seth Godin. Tribes. I hadn't seen his TED talk on Tribes yet, but I'm glad they showed it at the event. The group I was sitting with immediately started calling ourselves a tribe. We even lovingly started calling the eldest in the group our "Tribe Mama". Tribe Mama just so happens to be the PechaKucha Night organizer and her tribe consists of co-organizers, assistants, volunteers, helpers, whatever you call it. So far we've even attended Ignite Raleigh, TEDxRTP and Fizzled Durham together, with PechaKucha to come. Hashtags like #wheresmytribe are popping up all over the internet :)
Joel Wiggins. Where are the Fathers? Well duh, all those missing black men? They're in prison. That's no surprise. While I understand that the statistics show the kids without a father in the household have worse outcomes than kids with fathers in the household, I cannot jump to the conclusion that the lack of fathers in a household causes poor outcomes. Correlation does not equal causation people! I'd like to see the real research behind why children growing up in father-less households are more likely to end up in prison, run away from home, or have behavioral problems. When Joel then concluded that the solution to this problem is to bring the men back to families and that traditional families are good and non-traditional families are bad, I couldn't support him. I'm not sure if that's exactly what he meant (and Joel, please correct me if I'm mistaken), but I believe there are plenty of stable, healthy households that aren't of the "traditional" form. For example gay couples raising children: would you argue that two men raising a child works while two women raising a child would not or that gay couples could not raise a healthy child at all? What about multi-generational families where you may have parents, grandparents, aunts/uncles, and/or cousins living under the same roof? What about single dads or an older sibling as the guardian? Traditional mother plus father and child(ren) families are not the only healthy families.
Ilina Ewen. Food Advocate. Although she only touched on the subject of school lunches briefly, that was the part that stood out the most to me. Why is it that school lunches continue to consist of pizza, breadsticks, apple pie, French fries, and tater tots? The high and mighty in charge argue that they are offering healthy school lunch options: green beans, cole slaw, an apple, an orange, tossed salad, etc. (except there isn't much more variety than what I've already listed). First of all, are vegetables and a piece of fruit really an acceptable complete lunch? Where is the main dish? Oh yea… the main dish is "Big Daddy's Pizza", a turkey corn dog, a double cheeseburger, double hot dogs with chili, and "Max Cheese Sticks" with marinara. The second matter is that kids left up to their own devices are not going to choose to eat an apple and some green beans over the greasy food they're craving towards the end of the day. Ilina challenged Wake County to try eating in a school cafeteria for a month and then see what they think of school lunches themselves. I can guarantee some change would happen pretty quickly.