People across all sorts of industries are finding industry-specific events to be I got an email the other day from a friend of mine up in New York City who's completely new to putting on events and is faced with the possibility of holding monthly events in NYC in her industry. Not only is she new to event planning, but she's sort of scared of it. It's totally new territory.
So she emailed me asking for some suggestions, a place to start, and some "event-y wisdom" as she put it.
Consider this an "annotated bibliography" of event planning resources I've used over the past year.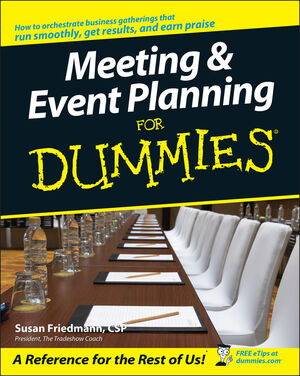 The Basics
Blogs and online groups are all fine and dandy when you're looking for creative ideas, need to ask for advice, or just want to keep up-to-date in the industry. When I first got started, though I didn't know where to start. I needed to do my research before asking others for help. I found two books at the library to be especially helpful in a "general overview" sort of way".
Laugh at these "dummies" books all you want… but they have some useful information. Especially when you really have no idea where to start. Although published in 2003 (so the technology aspect of the content is pretty out-dated), I found this book good for understanding all the different types of meetings, events, and parties, sponsorship basics, what to do about contracts, how to set up a realistic budget, and all the little details that generally aren't blogged about because that's not the "fun part".
Another good reference book. This book covered some aspects of events that Dummies didn't capture. My favorite chapters: "The Guest List" (including some awesome checklists and timelines for when to invite whom) and "Your Next Event" (covering good questions to ask yourself and guests about how the event went and how to improve future events). As a bonus, there's little Q&As scattered throughout the book so you don't have to read long narratives to find what you're looking for.
Blogs & Websites
This is quickly becoming my favorite blog. From event planning best practices to "5 risks every event planner should take" to tips for keeping the post-event buzz going on social media channels, I can always find interesting, provocative, and useful articles here. Sure they write a lot about their own product, Eventbrite, an event registration tool, but it's also the BEST event registration management tool I've found out there.
Some of my favorite posts:
Guest post: 5 ways to generate (more) revenue with small(er) events
Guest post: 5 risks every event planner should take
Boston Tweetup shares tips on how to host a successful Tweetup
Charlene Li: 5 ways to keep the social media buzz after an event
Yea… I could go on and on… there's way too much good stuff there.
LinkedIn Group: Event Planning & Event Management
Got a question about something you couldn't find in books or blogs? There's a good chance some people in this group will have an answer. I haven't used the group as much as I probably could, but it's worth mentioning.
Twitter
List
I created a twitter list of people that tweet a lot about event planning, conferences, and social media/marketing as related to events. Check out the list here: http://twitter.com/#!/carleemallard/event-professionals/
I'm always looking for thought leaders in the event world to add to my list. If you or someone you know should be on the list, let me know!
Hashtag
Follow #eventprofs for a continuing conversation between event professionals.
SUPPLEMENTS:
Good place to browse the top stories in the event planning industry. Includes everything from career advice, wedding planning ideas, business meeting trends, conference planning, party rentals, hotels, trade shows, finding motivational speakers, etc. The list goes on. Browse away.
Cvent.com
If you have a budget for outsourcing some of your event's marketing & survey work (which I never have…) you might want to check this out. Even if you're doing everything on your own, they also have some good whitepapers on creating surveys, venue selection, and planning a green meeting.
BizBash.com
Great resource for local markets: Boston, Chicago, Las Vegas, Los Angeles, Miami, New York, Orlando, Toronto & DC. It's especially useful in researching venues and suppliers locally and reading about successful events in each city. BizBash also holds an annual expo in New York, LA, Chicago, Miami and Toronto, so if you can make it to one of those cities, it sounds like a good place to hobnob with other event planners.
Are there any other big hitters that I've missed? What do you use daily or a as a reference for every event you plan?